HOT PRODUCT | LOW STOCK ONLY 1 LEFT
⭐⭐⭐⭐⭐  4.77/5.0 (1047 reviews)
Sale price
$39.99
Regular price
$79.99
Unit price
per
SAVE NOW 50%
Sold out
BUY MORE SAVE MORE
Automatic Cat Water Fountain
Sale price
$39.99
Regular price
$79.99
Unit price
per
SAVE NOW 50%
Sold out
Solve Your Cat's Hydration Woes with the Cat Water Fountain!
Does your feline friend struggle to stay hydrated, leading to health concerns and constant faucet requests? Introducing the Cat Water Fountain, the purr-fect solution to your cat's hydration needs. This innovative and stylish water dispenser is designed with your cat's well-being in mind, ensuring they have access to clean, flowing water throughout the day.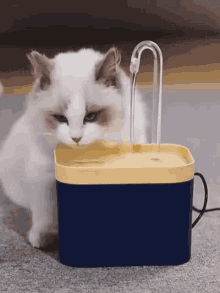 Why Cat Parents Love It:
Optimal Hydration: The Cat Water Fountain encourages your cat to drink more water by providing a constant flow of fresh, filtered water. Say goodbye to the worry of dehydration.

Healthier Cats: Proper hydration is essential for kidney health and overall well-being. This fountain helps prevent urinary tract issues and keeps your cat feeling their best.

Low Maintenance: Our water fountain is easy to clean, with dishwasher-safe components, making it a breeze to maintain and keep your pet's water supply clean and safe.

Whisper-Quiet Operation: The advanced pump technology ensures a silent and calming water flow, perfect for even the most noise-sensitive feline companions.

Elegant Design: With its sleek and modern design, our Cat Water Fountain seamlessly blends into any home decor, adding a touch of sophistication to your cat's hydration station.
Features:
Triple Filtration: Equipped with a three-stage filtration system, the fountain purifies the water, removing impurities, hair, and debris, providing your cat with clean, crisp water.

Adjustable Flow: Tailor the water flow to your cat's preferences with the adjustable flow control, accommodating both gentle sippers and water enthusiasts.

Large Capacity: The spacious reservoir ensures a constant supply of water, so you don't have to worry about refilling it constantly.

BPA-Free Material: Crafted from high-quality, BPA-free materials, this fountain guarantees the safety and health of your furry companion.

Easy Setup: Setting up the Cat Water Fountain is a breeze, and it comes with a comprehensive user manual for your convenience.
FREE FAST SHIPPING

30 DAYS MONEY BACK
Shipping Info

All orders are processed with 24-48 hours

Orders to United States can be expected to arrive within 5-11 business days.

For any questions or concerns, please contact us via email.
Get it between - and -. + FREE SHIPPING
View full details
💥 XMAS GIFT SALE NOW 🎄🎅 💥
STOCK IS RUNNING LOW
UPDATE: WE ARE CURRENTLY GOING VIRAL
STOCK IS RUNNING LOW
UPDATE: WE ARE CURRENTLY GOING VIRAL
STOCK IS RUNNING LOW
UPDATE: WE ARE CURRENTLY GOING VIRAL
STOCK IS RUNNING LOW
UPDATE: WE ARE CURRENTLY GOING VIRAL
STOCK IS RUNNING LOW
UPDATE: WE ARE CURRENTLY GOING VIRAL
STOCK IS RUNNING LOW
UPDATE: WE ARE CURRENTLY GOING VIRAL
STOCK IS RUNNING LOW
UPDATE: WE ARE CURRENTLY GOING VIRAL
STOCK IS RUNNING LOW
UPDATE: WE ARE CURRENTLY GOING VIRAL
STOCK IS RUNNING LOW
UPDATE: WE ARE CURRENTLY GOING VIRAL
STOCK IS RUNNING LOW
UPDATE: WE ARE CURRENTLY GOING VIRAL
STOCK IS RUNNING LOW
UPDATE: WE ARE CURRENTLY GOING VIRAL
STOCK IS RUNNING LOW
UPDATE: WE ARE CURRENTLY GOING VIRAL
STOCK IS RUNNING LOW
UPDATE: WE ARE CURRENTLY GOING VIRAL
STOCK IS RUNNING LOW
UPDATE: WE ARE CURRENTLY GOING VIRAL
STOCK IS RUNNING LOW
UPDATE: WE ARE CURRENTLY GOING VIRAL
STOCK IS RUNNING LOW
UPDATE: WE ARE CURRENTLY GOING VIRAL
Testimonials
★★★★★

JOE

Bought at Flash Sale recommend

★★★★★

AMY

★★★★★

ASHLEY

Top Notch Customer Support